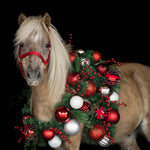 Cheer up stable-bound horses with a "Boredom Breaker" from Likit. 
A virtually indestructible, (even if you four-legged friend stamps on it) brush that effectively removes dirt, mud, grass stains, dried sweat plus they can easily remove horse hair from saddle pads etc, a win for you as well as a win for your horse.
Hygain Smoochies are a crunchy baked biscuit, made from fresh wholesome Australian ingredients, ideal to feed as a treat or reward for your horse.
Hamag's leather halters come in different colours and with a matching lead. Your horse will looking stunning in it!
Make the perfect frame for them - you could hang it in the stables or even in your house.
Make them glow in the dark with this breastplate - make sure they don't get lost or you don't loose them. Choose from different colours! 
Who doesn't love silk hair and we bet your horse does too! This shampoo will make them shine in their own coat.
Homemade and delicious horse treats, it's always nice to find some goodies in the Christmas stockings. 
Sparkles all the way! With this beautiful tale bags, they will be the most gorgeous in the stables.
Personalised their Christmas and the stables with this handmade stockings. Choose from different colours and add their name.